Ricky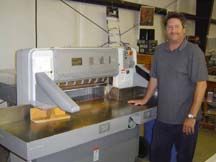 Finishing and Delivery
Ricky's job involves finishing jobs after they come off the presses. He is responsible for cutting, folding, and all other finishing operations that are required of each job. He also fills in as our driver on occassion.
Ricky has been a part of the Graphics Now team since 2001 and has over 25 years experience in printing.
In his spare time, Ricky enjoys hunting and karaoke.